At the School of Petroleum and Natural Gas at Lackawanna College, students aren't learning about natural gas operations in theory alone.
They are getting a hands-on education in the new Williams lab, where they learn to operate and maintain compressor engines and other oil and gas equipment donated by industry partners.
"That's the type of equipment they would use in the field and translates directly to the jobs they would have at Williams," said Mike Atchie, Director of Community and Project Outreach for Williams.
The school recently moved into a new location in Tunkhannock, Pennsylvania, bringing students even closer to employers like Williams in the Marcellus shale. Williams already has hired more than 70 students from Lackawanna College over the years.
Several work in our nearby Tunkhannock operations, including JJ Caprio, a compression maintenance planner.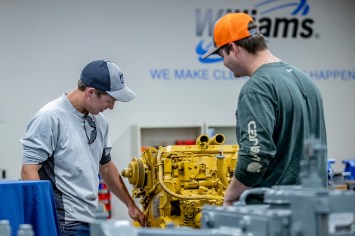 He graduated with associate degrees in petroleum and natural gas measurement, and in business administration, and also had two internships at Williams before joining full-time.
"This new facility is amazing," he said of the Williams lab, which was dedicated as part of the college's grand opening ceremony in Tunkhannock.
"I think the location is key," he said. "It's going to be accessible to a lot of people and is going to help the surrounding counties and the industries here because of access to quality education and job opportunities."
Jill Murray, President and Chief Innovation Officer at Lackawanna College, said jobs in the oil and gas industry transform lives.
"I think a lot of people don't understand that this industry is not just about drilling," she said. "There's upstream, midstream, downstream operations There are all kinds of facets to this business ecosystem that allow us to be able to fill jobs in every area."
Williams has long been a supporter of Lackawanna College and the School of Petroleum and Natural Gas. Williams is donating $105,000 over three years for the lab and recently gave $20,000 to endow a scholarship at the school.
"I think it's important that Williams and other companies in the area continue to contribute to this program and keep a solid pipeline of new talent coming into the industry," Caprio said.