For more than a decade, Sequent Energy Management, a Williams company, has partnered with a Houston high school's work-study program, introducing dozens of students to careers in the oil and gas industry, and building skills that will help them succeed in college and beyond.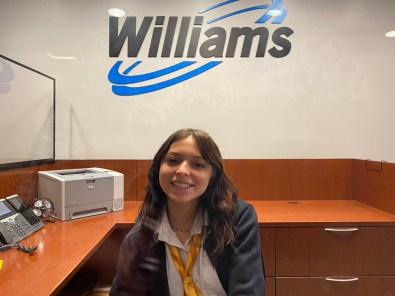 "I was really excited and glad to finally do hands-on work and have in-person experiences," said Kamryn, a sophomore at Cristo Rey Jesuit College Preparatory School of Houston.
All Cristo Rey Jesuit students participate in the school's work-study program, spending one day a week working at a corporate partner's office to earn half the cost of their education and gain life-changing professional experience.
Students worked virtually last year for their corporate partners because of the pandemic. But this year, Kamryn is able to work on-site at the Sequent offices in downtown Houston.
"My parents work in the oil and gas field, so I wanted to work here to help me better understand what they do," she said.
The 15-year-old already has made an impression on her Sequent colleagues with her eagerness to learn and ability to work in a team setting, said her Sequent mentor Nelly White. Among her duties, Kamryn prepared a PowerPoint for an all-employee meeting, while also learning about the various office functions at Sequent.
White said that as a result of working in a business environment, students like Kamryn create positive relationships in professional communities, build resources, acquire valuable job experience and obtain marketable skills.
Kamryn says she's considering a college degree in psychology. She and her sister, another Cristo Rey Jesuit student, would be the first in their family to attend college.
She said the experience of working with adults in an office has helped her become more confident and communicate better.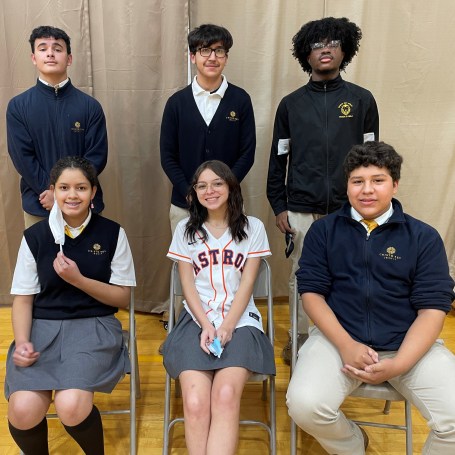 "It's helped my personal growth," she said. "I have better time management and a lot of responsibility. It's not like at school with a teacher telling you what to do."
She tells other students that, "Once you get into it, it can be really fun. You will learn so much and will be better prepared once you graduate."
The Corporate Work-Study Program is an integral part of the educational experience at Cristo Rey Jesuit.
Misty Helm, director of the school's work-study program, said combining corporate training with rigorous academics can be a transformational experience.
"By matching business interests with the educational and economic needs of our students, we give them their best chance of overcoming the financial barriers that limit their educational and professional opportunities."
Blair, a high school senior who is in his 4th year of working with Sequent, said he most enjoyed shadowing different departments each semester. That allowed him to understand accounting, HR and other functions.
The 17-year-old said he'll go into college next year with confidence and communications skills.
Sequent also helped the school by recently donating more than 300 desktop and laptop computers that the school is using for corporate work-study, a video editing class, an art class, and to replace outdated computers in the computer lab as well as some of the faculty and staff members' computers.