Building critical infrastructure up and down the mountains of north central Pennsylvania was formidable enough for our crews but add in snakes and snow and you've got a challenge we were more than up to, in completing our Leidy South expansion project.
The expansion project went online recently and helps the existing Transco pipeline system transport an additional 582,400 dekatherms of natural gas supply per day, which is enough to meet the daily needs of approximately 2.5 million homes.
Pre-construction studies were key to identifying any hazards and minimizing the impact on property owners and the environment.
Safety is paramount when constructing pipeline up mountains – some that had angles of 30-degrees or more. Drilling through the mountains wasn't an option, said manager of construction Brooke Justice. By burying the pipe three to five feet underground on existing rights of way, it's easier to access for any maintenance needs.
"When we reached a slope angle that required winching, the trenching activities and laying the pipe are achieved by multiple bulldozers daisy chained together with large cables holding the excavator for trenching and holding the side boom for laying the pipe," she said. "Pipe is installed one or two joints at a time until you reach the top of the hill."
A high-tech system called Winchsmart provided load data to inform the dozer operators how much tension was on their winch lines at any moment.
At the same time, on-the-ground spotters were critical in communicating to the crew when rocks were moving downhill toward roads and for avoiding overhead powerlines. Flaggers provided temporary traffic control for travelers to avoid any potential hazards in the work area and safety fencing was installed along the roads of the steep slopes to reduce rocks from entering the roads.
And the snake wranglers, well, they kept Pennsylvania's protected timber rattlesnakes away from active job sites.
"Snake wranglers permitted by the Pennsylvania Fish and Boat Commission were hired to sweep the right of way in the morning and continued monitoring the active work areas throughout the day," Justice said. "All snakes captured by the wranglers were safely relocated out of harm's way."
Of course, Mother Nature also had a say and crews experienced rain, fog and snow during construction.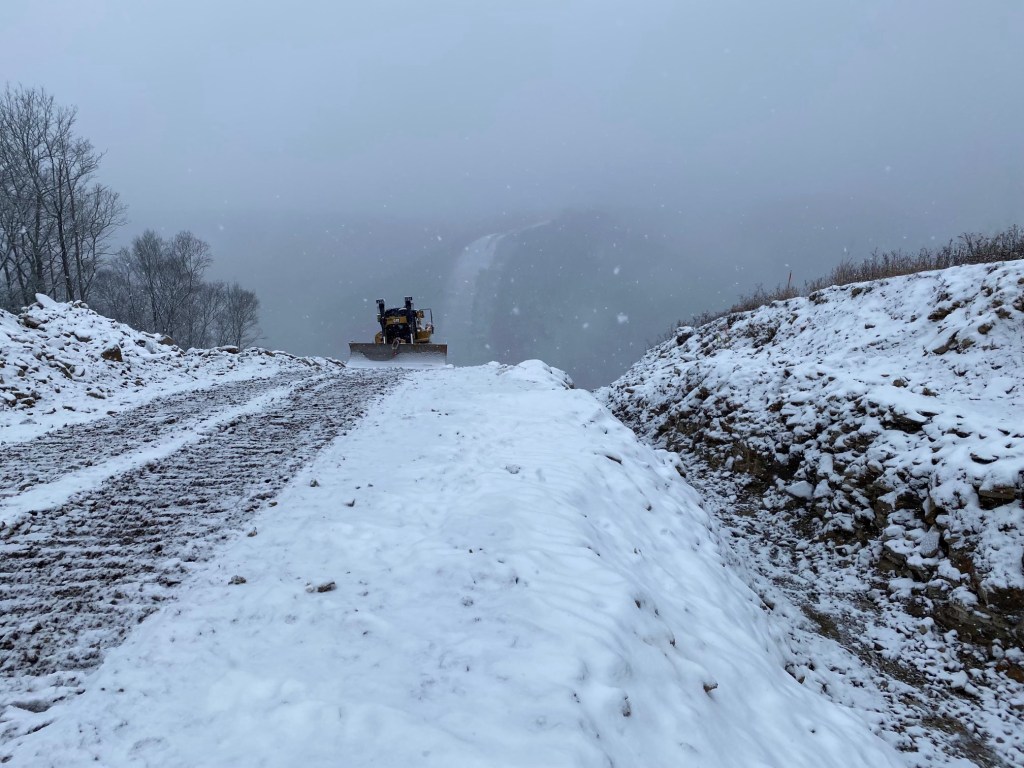 Justice said mud sometimes delayed construction for safety concerns.
"This region is historically prone to excessive snow and rainfall accumulation," she said. "Weather is unpredictable and difficult to plan for when considering safe working conditions. So, we include weather days in the schedule and develop plans with the contractor to ensure safety and schedule performance are not compromised."
She said that to prevent significant erosion, environmental control devices were installed and maintained along the slopes to minimize storm water run-off. In addition, geohazard mitigation controls were installed as slope stabilization measures.
Justice said communication among the project team and contractors was key to the success of the expansion. The final stage of the project is restoring the right of way with plantings that stabilize and green the slope.
"This is a beautiful part of Pennsylvania, and we want to leave it in even better condition than when we began this project," she said.