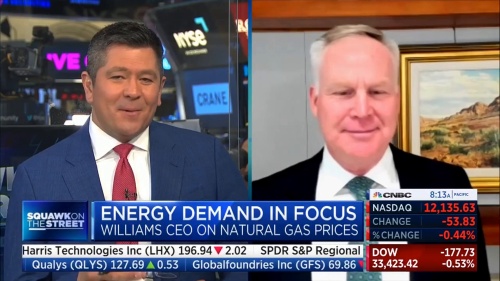 Earlier this week, President & CEO Alan Armstrong joined CNBC to discuss all things energy, including the dynamics driving demand for U.S. natural gas domestically and overseas. Speaking to "Squawk on the Street" hosts Sara Eisen and Carl Quintanilla, Armstrong said moderate natural gas prices keep demand growing and producers healthy.
"Our business is throughput, so what we really focus on is demand, and demand really comes from things like LNG growth, which is continuing to grow pretty dramatically," said Armstrong, adding that natural gas demand also rises in the summer to generate electricity for air conditioning.
A major hurdle to unlocking the benefits of U.S. natural gas resources is addressing the permitting process to build large-scale infrastructure. This causes supply constraints that can drive up natural gas prices in certain regions and also force consumers to switch to carbon-heavy fuels. But progress is happening.
"Political leaders in Washington are starting to realize how important our infrastructure is here," said Armstrong. "We have plenty of low-cost natural gas supplies here in the U.S. and there really was no reason for the price rise that we saw last year other than the lack of infrastructure. And that really caught people's attention."
Williams handles about one-third of the nation's natural gas to meet increasing demands brought on by electrification and renewables, as well as displacing the ongoing use of coal for electricity generation. Natural gas is also the primary feedstock for fertilizer and plastics, which are integral to the economy.
"There's a lot more focus now on infrastructure, not just pipelines but also, electric transmission, needed to bring on renewables," said Armstrong. "Keeping those things coupled together is going to lead us to some pretty important permitting reform that is desperately needed for the benefit of our country."