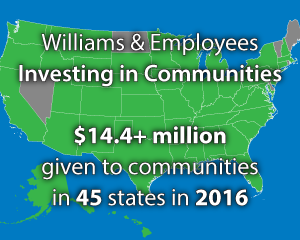 Wherever we operate, Williams is recognized for our philanthropy and employee commitment to our communities. The year 2016 was no different as Williams' volunteerism and giving directly touched lives in 45 states.
Here's a closer look at Williams in 2016:
Hundreds of employees gave back through community volunteerism by serving on nonprofit boards, as school mentors, STEM event judges, as volunteer first responders, Little League coaches and more
Through Williams' Homegrown Giving, employee volunteers directed nearly $500,000 in grants to nonprofits they serve, while employees and retirees received $1.7 in Williams' Matching Grants to support their organizations
$14.4 million was provided by Williams in the form of total grants, gifts and matching grants
$6 million was contributed to local United Ways
$2 million was given for environmental and civic betterment
$1+ million was invested in education and STEM education outreach
Over $100,000 was provided to disaster relief efforts where our employees live; in areas hardest hit
We're honored to encourage our employees to give back as we support all those communities we call home.