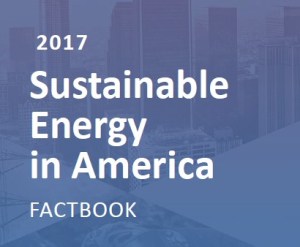 American consumers are now spending less of their incomes on energy than ever before in the modern era.
That is according to the 2017 Sustainable Energy in America Factbook, which was recently released by the Business Council for Sustainable Energy, in partnership with Bloomberg New Energy.
The factbook found that record-low natural gas prices enabled consumers to devote "less than 4% of their total annual household spending to energy in 2016, the smallest share ever recorded by the US government."
The factbook reports that retail electricity prices fell 2.2 percent from 2015 to 2016 and consumers paid 3.9 percent lower prices than a decade ago, highlighting the fact that low natural gas prices have allowed the U.S. economy to grow at the same time as we've reduced greenhouse gas emissions. One reason, the report notes, is because of increased natural gas use for electricity generation.
"Since 1990, over 90% of cumulative generating capacity additions have been renewable energy or natural gas… These installations are already having an impact on the grid: natural gas is now the number one source of power in the US, contributing 34% of the electricity mix in 2016, up from only 22% in 2007."
It continues:
"At the same time, the retirement of coal-fired power plants continues to shrink that fuel's contribution to the power mix: 2016 saw 7GW of coal-fired capacity disconnect from the grid, after a record 15GW retired in 2015. Another 12GW are currently scheduled to retire within the next five years. These retirements are due to a confluence of factors, including competition from low-priced natural gas…"
Read the full report here: http://www.bcse.org/sustainableenergyfactbook