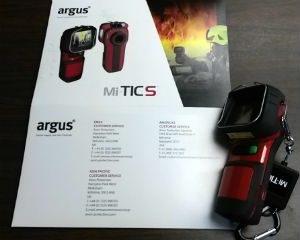 The Milton Fire Department in Milton, PA, just received a $7,500 grant from the Atlantic Sunrise Community Grant program for the purchase of a new thermal imager equipped with the latest detection technology.
Joe Lupo, deputy chief of the Milton Fire Department, said their current thermal imager is approaching 20 year of service and having a new up to date unit will aid in much quicker searches for possible victims in burning structures.
Lupo added that the thermal imagers have multiple uses. In addition to locating and getting to victims quicker in a burning structure, they can also use the device to find a fire. For instance, when there is smoke and they cannot see the fire because it is hidden behind a wall, this device can pinpoint the exact location of the fire based on its heat profile.
Another way they use the device is to locate people who have been ejected from a vehicle in an accident. If it is dark outside and there is not much light the thermal imager can detect where someone is based on their heat profile. Or, if they are not sure if there are more victims, we can scan the area to ensure there are no other people to may need emergency medical attention.
With this one tool and its multiple uses the Milton Fire Department can respond much quicker and be more effective keeping the residents of Milton safe.