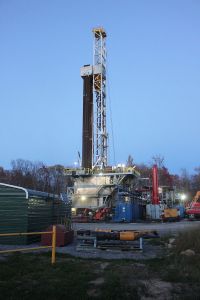 Bloomberg recently reported that U.S. natural gas production is expected to have a record-breaking year in 2018.
Quoting the Energy Information Administration's latest short-term outlook, published on Jan. 9, Bloomberg reports that U.S. oil and natural gas output in 2018 would hit its highest level ever, saying:
"This year isn't just expected to see the highest U.S. natural gas output ever, but also the biggest jump in production by far."
Energy reporter Liam Denning notes that an extra 6.9 billion cubic feet of gas production is expected in 2018. That amount of gas is equivalent to the U.S. adding the entire output of Turkmenistan — one of the world's largest gas exporters — in the space of just one year.
Bloomberg says that one of the big reasons for the increase is the availability of new takeaway pipelines.
"Pipelines able to carry roughly 7 billion cubic feet of gas a day away from the prolific Appalachian region are due to start up this year, allowing production that's been bottled up in the East to flood out."
One major takeaway pipeline designed to help connect Appalachian producers with gas-hungry East Coast markets is Williams' Atlantic Sunrise pipeline project, which is on schedule to come online in mid-2018. Once complete, the project will have the capacity to move 1.7 billion cubic feet of gas per day out of the region.
Bloomberg also notes that in the first decade of this century, the U.S. was short of about 9 billion cubic feet a day of gas, on average, relative to its consumption. Imports made up the difference. The latest projection from the EIA shows that this has almost entirely flipped.