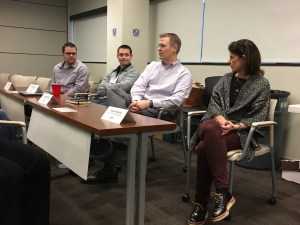 Williams' Pittsburgh office recently hosted students from the University of Pittsburgh for Panther Shadow Day, where they met with leaders and learned about working at Williams.
"Strategic partnerships such as University of Pittsburgh's Panther Shadow Program are critical to Williams' college recruiting and early career development strategy," said Kelli Gebbia, manager, Learning & Early Career Development. "These programs give Williams the opportunity to share our business and culture with prospective candidates for our entry-level talent pipeline."
Ryan Savage, Commercial Vice President for Northeast Operations, told students that the Williams culture is one of inclusiveness.
"To be a successful business like Williams, it is important to maintain a diverse environment. I think of diversity as all of it – thought, color, gender and politics — to make up a smart, dynamic business environment that succeeds."
Megan Zimmerman, career development specialist at the University of Pittsburgh thanked Williams for providing this networking opportunity.
"For the students to be able to hear stories firsthand from Williams Leaders today about how they used their relationships over the years to help further their careers is wonderful," she said. "It is this kind of interaction that really helps."
Several Williams employees who are University of Pittsburgh alumni also attended a breakfast for the students.