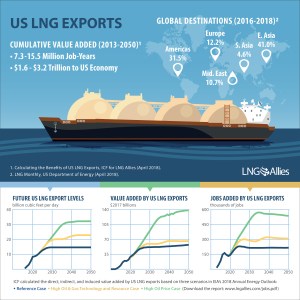 The cumulative contribution to US economic growth from the addition of more LNG plants will range from $716 billion to $1.267 trillion between 2013 and 2050 under three cases, an ICF Inc. study commissioned by LNG Allies recently projected.
The updated ICF study summarizes the potential for significant economic benefits and job growth from the U.S. liquefied natural gas (LNG) industry. The report used the most current U.S. Energy Information Administration (EIA) data based on three cases in their 2018 Annual Energy Outlook (AEO) released in Feb. 2018. The three cases include the Reference Case, the High Oil & Gas Case, and the High Oil Price Case.
Key findings from the new ICF study include the direct, indirect, and induced value added from 2013 to 2050 for the three AEO 2018 cases:
The cumulative economic impact from LNG plants will range from $716 billion to $1.267 trillion.
LNG plants would support 2 million to 3.9 million job-years.
Considering the whole value chain (LNG and natural gas supply) the cumulative economic benefits from U.S. LNG exports would range from $1.664 trillion to $3.255 trillion and 7.346 to 15.459 million job-years.
"U.S. LNG exports are driving the transformation of the international gas trade to an increasingly well-connected global market," said LNG Allies President & CEO Fred H. Hutchison. He added, "This updated report shows LNG exports also provide important economic benefits to the United States, by stimulating job creation, increased economic activity, and tax revenues."
In 2017, Williams placed its Gulf Trace project into service to feed the Cheniere LNG terminal. The 1.2 million dekatherm per day project allows Transco's production area mainline and southwest Louisiana lateral systems to flow gas bi-directionally from Station 65 in St. Helena Parish to Cameron Parish, La.
Efforts to serve the surging LNG market continued in February 2018 as construction kicked off on the Gulf Connector project. Constructed in two phases, Gulf Connector is designed to deliver 75,000 dekatherms per day to Freeport LNG Development, L.P.'s liquefaction project by the second half of 2018, and 400,000 dekatherms per day to Cheniere Energy's Corpus Christi LNG terminal in 2019.
Projects like Gulf Trace and Gulf Connector, which leverage existing gas pipeline infrastructure, are great examples of Transco's unique market position to connect abundant domestic supply with emerging international markets.
The U.S. EIA anticipates that the nation will become a net exporter of natural gas this year for the first time since 1957 as production outpaces domestic demand. By the end of next year, it anticipates U.S. companies will have the capacity to process 9.5 billion cubic feet of LNG per day.