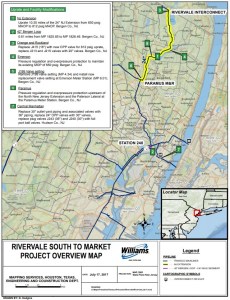 The Federal Energy Regulatory Commission (FERC) on Aug. 10 issued a certificate of public convenience and necessity authorizing the
Rivervale South to Market
project – an expansion of the existing Transco natural gas pipeline to meet the growing heating and power generation demand for northeastern consumers.
The Rivervale South to Market project will create 190,000 dekatherms per day of firm transportation capacity to serve Direct Energy Business Marketing, LLC and UGI Energy Services, LLC in time for the 2019/2020 winter heating season (enough natural gas to meet the daily needs of about 1 million homes).
According to the U.S. Environmental Protection Agency (EPA), increased utilization of natural gas has resulted in U.S. carbon dioxide emissions declining 13 percent since 2005, while overall greenhouse gas emissions are at their lowest levels since 1992.
The Rivervale South to Market project will consist of uprating 10.35 miles of existing Transco pipeline, adding a 0.61-mile pipeline loop, as well as upgrades and modifications to existing facilities, all in New Jersey.
Following the receipt of all necessary regulatory approvals, Williams anticipates beginning construction on the Rivervale South to Market project in early 2019.
Transco delivers natural gas to customers through its 10,200-mile pipeline network whose mainline extends nearly 1,800 miles between South Texas and New York City. The system is a major provider of cost-effective natural gas services that reach U.S. markets in 12 Southeast and Atlantic Seaboard states, including major metropolitan areas in New York, New Jersey and Pennsylvania.