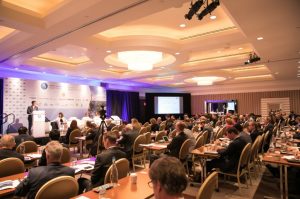 Panelists at the recent North American Gas Forum in Washington, D.C., agreed that synergy and innovation in both the natural gas and renewable energy sectors can help address surging energy demand both domestically and across the world.
Chad Zamarin, Williams senior vice president of corporate strategic development,  was a speaker at the conference.
SmartBrief reported October 24 that panelists supported the position that natural gas and renewables bolster one another and can work together to make progress on achieving carbon-reduction goals.
Jeff Stein, American Petroleum Institute: 
"Natural gas isn't just the backup of renewable energy…natural gas will be the foundation for a grid that is cleaner, flexible and more dynamic."
Melanie Kenderdine, Energy Futures Initiative:
"The biggest challenge is climate change and what the challenges are…there is both a world for natural gas and renewables."
Bob Perciasepe, Center for Climate and Energy Solutions:
"We need to be upping the urgency in thinking through how these different energy sources work together in a carbon-restrained world."
Read the full article from SmartBrief 
here
.