In recent years, and especially in 2018, the region that comprises Williams' Northeast Gathering and Processing footprint – Pennsylvania, West Virginia and Ohio – has been hit with significant rainfall. This has resulted in everything from flooding to slips in roadways, and has triggered a massive relief effort from Williams and many of the more than 1,000 people we employ in the region.
Disaster relief
In August, when several counties in Northeast Pennsylvania were ravaged by floods,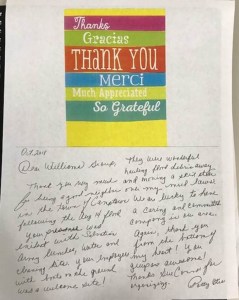 Williams employees immediately sprung to action by providing supplies to local residents, assisting the Salvation Army and other disaster relief organizations, and helping affected community members clean up the damage.
About a month after the flooding occurred, Williams received an unexpected note from local resident, Patty Otis. It read, in part:
"Dear Williams Group, Thank you for being a good neighbor…following the Aug. 14 flood. Your presence was evident with Salvation Army lunches, water and cleaning kits. Your employees with boots on the ground was a welcome site! We are lucky to have a caring and committed company in our area. Again, thank you from the bottom of my heart! You guys are awesome!"
While we don't do it for this sort of accolade, Williams is glad to know that our efforts to support the community have a meaningful and positive impact on local communities, and we greatly appreciate Ms. Otis taking the time to show her appreciation.
Relieving taxpayers by privately funding more than $3 million in road slip repairs
It's not only acute situations like flooding that trigger Williams' community support.
As a continuation of our more than $4.5 billion investment in West Virginia, this past spring, Williams had begun planning construction to expand our Oak Grove processing facility located on Fork Ridge Road near Moundsville, W.Va. In the early planning stages, Williams realized that this particular road – while passable for many motorists – could not handle the types of vehicles needed to deliver new infrastructure to the facility.
When, in mid-April, a slip closed a key part of Fork Ridge Road – greatly reducing access to Williams' operations – Williams quickly began working to determine how to help the West Virginia Division of Highways provide a safe, reliable and expedited solution – all while meeting the needs of day-to-day operations and construction projects.
By early May, Williams, along with Chevron and TransCanada (both of which rely on Fork Ridge Road to access their local operations) delivered a proposal to fund, design and manage repairs of slips along Fork Ridge Road. With Chevron and Williams each pledging more than $3 million, the proposal was fully funded, and by mid-May, permits to commence work were obtained.
In a true demonstration of efficiency and teamwork, the road was reopened in early August, enabling construction – and Williams' continued investment in West Virginia – to move forward on schedule.
Because of this private funding by Chevron, Williams and TransCanada, the state was able to address these slips much sooner than if the repairs were being funded by West Virginia taxpayers. And, of course, West Virginians weren't burdened with paying for this necessary work.
At the West Virginia Chamber of Commerce Annual Summit at The Greenbrier this past August, West Virginia Secretary of Transportation, Tom Smith, spoke about a statewide initiative called Roads to Prosperity. He mentioned two important elements of the initiative: a focus on improving rural roads, and having private involvement. While not formally part of the Roads to Prosperity program, the contributions by Chevron, Williams, and TransCanada capture the spirit of what Secretary Smith described, and are shining examples of how our industry proactively works to provide win-win-win outcomes for the communities in which we live and work.