Construction activities are officially underway on the second phase of Williams' Hillabee Expansion project.
Initial construction activities have included contractor mobilization, environmental training and site preparation at the location of a nearly seven-mile pipeline loop (known as the Rock Springs Loop) planned in Choctaw County, Ala. Work on the nearly four-mile Verbena Loop in Chilton County, Ala., is scheduled to begin in April.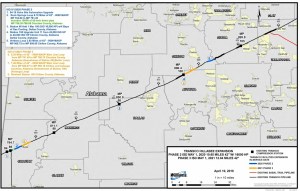 Phase II construction, which also includes horsepower modifications to two existing Transco compressor facilities, is anticipated to wrap up and be placed into service next summer. Once complete, the second phase of the project will increase the Transco pipeline's capacity by an additional 206,000 dekatherms of natural gas per day.
Williams successfully placed the first phase of the Hillabee project into service in July 2017, expanding its Transco pipeline's capacity in Alabama by 818,410 dekatherms per day to supply Florida power generators via the new Sabal Trail pipeline.
The project was approved by the Federal Energy Regulatory Commission (FERC) in February 2016.