A fly-fishing competition brought together first responders and military veterans, including several Williams employees, for a day of outdoors camaraderie recently in Wyoming County, Pennsylvania.
It was the second annual Fish for the Fallen fundraiser at Patriot's Cove, a nonprofit organization in northeastern Pennsylvania.
Williams sponsored a team that included employees Richard Sands and Dale Gow, both operations technicians and military veterans. Additionally, employees John Pittenger and Chad Johnson served as trout fishing guides for participants.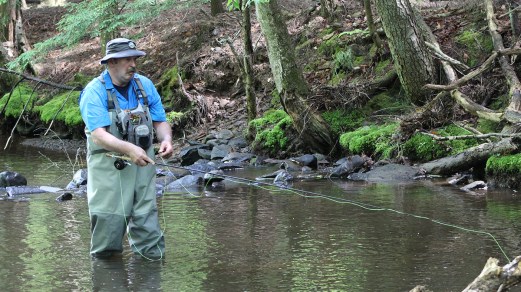 "I caught a native brook trout right off the bat and that was cool," said Sands, a former Navy Seabee who was a nuclear electrician on submarines.
Pittenger, a project manager, serves on the board for Patriot's Cove, an 18-acre refuge that provides restorative outdoor activities, environmental service projects and educational events for veterans, first responders and their caregivers.
"Fly fishing is my big passion and hobby," said Pittenger. "Patriot's Cove gave me a way to share that with people I look up to who have served their country," he said.
Chad Johnson, an environmental specialist, said Patriots Cove is an organization that is dedicated to serving those who have served.
"In my opinion, there may be no higher calling than serving those men and women who have given so much," he said.
Each angler fished in honor of a local hero who made the ultimate sacrifice and were provided a photo and biography to carry throughout the event.
Gow, who served in the U.S. Army, said he was honored to fish in the memory of a local firefighter.
​"It was very good," he said. "It made you realize a little more why you were there."