When Williams employee Doug Peters learned about Ground Zero Emergency Training Center and Piper, the dog that Williams sponsored there, he had to check it out.
Peters knew that a dog like Piper could save lives in central Kansas, where he is a volunteer first responder. He called the Oklahoma-based training facility to find out more and soon headed south for canine handler training.
"I hadn't planned to get a dog when I went to Ground Zero, but they paired me with Mack on day one and it just clicked," he said.
Mack is an 18-month-old Belgian Malinois and Labrador mix bred at Ground Zero to be part of an elite group of search dogs. Mack and Doug are now certified to find live victims in open areas.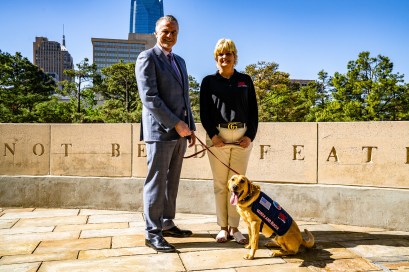 Peters, a tech specialist senior at Williams' Conway facility, also is a volunteer with the Civil Air Patrol Kansas Wing and Windom Rural Fire Department. He said a dog like Mack is the perfect partner to find missing persons.
"If we are able to save somebody, bring somebody home that's missing, that's worth a lot," he said, pausing. "I've thought a lot about that. We hope it doesn't happen but if it does, we are ready to go."
For Mack, the search is a game for which he is well suited. He's got a high prey drive and play instinct to go with his expert training at Ground Zero.
"He's got so much personality," Peters said. "He's very athletic and is very attentive. And just a very laid-back dog when he's not working."
Peters says he's fortunate to work for a company that supports first responders and nonprofit organizations like Ground Zero.
Recently, Mack and Piper were both officially paired with their handlers at a Passing of the Leash ceremony at the Oklahoma City National Memorial. They were among 19 pairs of handler/canine teams from six states.
It was during the bombing at that location 26 years ago, that Barry and Becky Switzer saw the need for more trainers and training facilities for search dogs that could respond to disasters in the United States.
A few years ago, they opened Ground Zero Emergency Training Center in Tuttle, Oklahoma, where dozens of dogs have been trained as search and rescue canines deployed after hurricanes, tornados and building collapses.
Williams sponsored the training for Piper, a lab paired with her foster mother and handler Terri Jungels. Williams also is helping fund the construction of a bunk house for handlers to stay when training at Ground Zero.
Peters said he is thankful to Ground Zero and the dedicated employees and volunteers "who do an outstanding job and really care about the dogs above all."