It's back to school time and a reminder of the importance of education and mentorship in preparing students for the future.
In this Q&A with Williams President and CEO Alan Armstrong, he tells us why he's passionate about serving on the boards of 3DE and Junior Achievement USA, nonprofits that help students connect their education with future careers and financial readiness.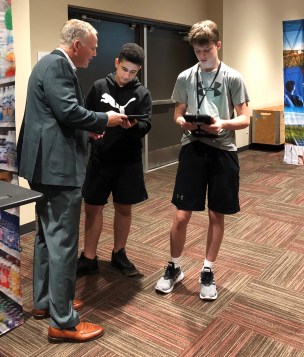 When did you get involved with these organizations?
I started volunteering for Junior Achievement when I began my career at Williams, first in the classroom in Tulsa and then on the JA of Oklahoma board. Now I'm president-elect of JA USA, and more excited than ever to continue to support and improve this organization with new ideas and evolving technology.
I'm also so proud to be part of 3DE, an offshoot of JA that started in Fulton County, Georgia, and now is its own national organization, with high schools in six cities serving a range of academic levels and backgrounds and more to come.
What was it about JA that attracted you and still does?
Well, there are a lot of things. One is the mission of bringing a very practical perspective into the classroom. JA does a nice job of making education relevant to business. The organization has had to change over the years. Their mission of trying to connect for all students the relevance between their education and what they want to do as a career is critical. Secondly though, I've always been attracted to the commitment and the culture of the staff of JA. People there truly care about making sure students from all walks of life get equal exposure to experiential learning.
Tell me about 3DE
3DE is an amazing offshoot of Junior Achievement. That team had a lot of community-conscience partners like Chick-fil-A, Delta Airlines and Home Depot. 3DE goes into underperforming schools, and they set up a curriculum where half the day kids are introduced to real live business dilemmas. For example, Home Depot will come in and say, "We want to reduce the time it takes for somebody to find what they want in the store." Just very practical business issues.
They get introduced to these dilemmas or problems to be solved. Then the basic fundamental curriculum of math and statistics and things that they need to solve that is taught in parallel to those problems. The businesses, just like an MBA class, set up these challenges, and students then work in teams to help solve these problems. As they work together, their education becomes very relevant to the problems they are solving. It has been a miraculous success.
Many of us who were raised by business professionals take for granted what we learned about the connection of education to business. But not all students are blessed with this exposure.
Williams supports school-based programs across our footprint. And many Williams employees volunteer in the classroom, just like you did. Why is that important?
When you see it up close and personal and you interview some of these kids, it is really impactful to talk to them and hear them say, "Because of what I did in high school, I was able to help my dad who doesn't speak English. I was able to help him get his lawn mowing business up and running and show him how to do his books, price his business, and to establish a legitimate business. There was nobody else in my family who is capable of doing that." To me, it is so powerful in terms of how it can change the kids' lives. This is a great way for businesses and their employees to connect in a way that can uniquely contribute something to these students' futures.
---

Wearing blue shirts and armed with hands-on activities, Williams employees took to the classrooms of Sequoyah …