For more than a century, Williams has strengthened the communities where we operate. From employee volunteerism to charitable giving and in-kind donations, we know that supporting our neighbors isn't a duty, it's a privilege.
2021 was another year of great need for our communities, as we entered a second year of the pandemic. But we stayed true to our mission to remain active, involved and passionate community leaders.
Throughout our footprint, we found our employees serving as community volunteers and mentors. In 2021, our employees recorded more than 23,000 volunteer hours.
Our long-standing support of more than 100 United Ways across the country was stronger than ever in 2021. In our headquarters city, we raised $1.5 million for the Tulsa Area United Way.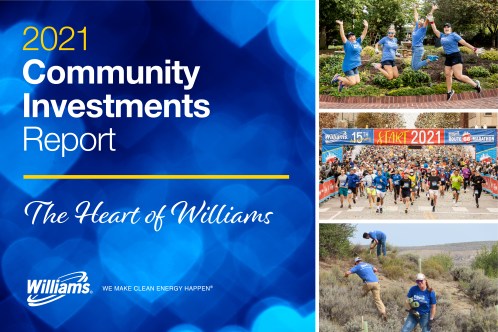 United Way partner agencies and 2-1-1 call centers across the nation provided a critical lifeline to food, rent and utility assistance and mental health resources.
Our commitment to first responders continued as well. Williams contributed $519,000 to more than 400 first responder groups across the nation.
Education was a key focus area as well. We funded programs at technical schools and universities to ensure we are building a diverse talent pipeline to meet our company's workforce needs as we drive toward a clean energy future.
We also supported efforts to bring science, technology, engineering and math education to those who might not be exposed to high-quality STEM learning opportunities, which lead to careers in well-paying STEM fields.
Our support of initiatives related to environmental conservation aligned with our business objectives to protect our communities, the environment and our critical energy infrastructure. We want to preserve the environment for future generations while improving standards of living today.
This year we are well on our way to continue the tremendous impact we can have to support our neighbors in need. An inaugural Williams volunteer week themed "We will be there" is bringing together employees and nonprofits across our enterprise.
It's a fitting theme.
We take our commitment to communities seriously. We will be there.
Read more in our 2021 Community Investments Report.