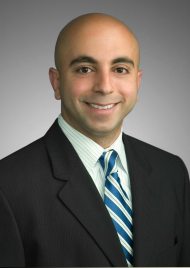 Albert Girgis is Vice President of Commercial for Williams' Eastern Interstate franchises. Williams' Eastern Interstate assets, including Transco, transport natural gas to major markets in the Northeast, Mid-Atlantic and Southeast U.S. Before taking his current role, Girgis served as Vice President of Corporate Strategic Development. Prior to joining Williams, he held roles at Cheniere, Kinder Morgan and Fluor Daniel.
---
How is Williams meeting today's energy needs while preparing for the future?
This is an exciting time for our industry and our customers. We're focused on right here, right now solutions to reduce emissions and build a clean energy future
We have a huge opportunity to leverage our natural gas-focused business as the world moves to a low-carbon future, while helping customers meet their climate goals.
We believe there's a direct link between sustainable business operations, corporate stewardship and long-term benefits for all stakeholders, including our customers.
How are we leveraging our footprint to create value and new revenue generation?
We believe that we have the best positioned energy infrastructure system to facilitate the meaningful introduction of renewables both into the existing natural gas mix as well as identifying dedicated point-to-point solutions.
As the first North American midstream company to announce comprehensive and actionable climate targets, Williams is committed to addressing climate change in a pragmatic and economically feasible manner.
We believe natural gas will remain a key component of the fuel mix and should be prioritized to complement renewables and more aggressively displace more carbon intensive fuels around the world.
What new ventures are we pursuing?
We have a growing team called New Energy Ventures that is proactively screening a variety of new projects.
We're already developing 16 solar projects to generate clean energy and reduce utility demand at some Williams locations. We continue to construct new interconnects and invest in projects to expand production of renewable natural gas (RNG). And we're working with customers and partners to offer products like responsibly sourced gas (RSG) and carbon offset natural gas.
Additionally, we're looking at hydrogen development and transport, carbon capture utilization and storage, corporate venture programs and carbon market programs: all as a way to achieve our emissions goals and create additional revenue opportunities.
Our Transco Emissions Reductions Program (ERP) is another demonstration of our commitment and readiness to meet and exceed environmental regulations. We're eager to help our customers achieve their own emissions-reduction and clean-energy targets, and we're dedicated to safely and reliably delivering natural gas on the Transco system now and in the future.