CERAWeek brings together the world's energy leaders, experts, government officials and policymakers in Houston to examine the sector's most pressing issues. Top among those this year: permitting reform for energy infrastructure that moves natural gas and electricity from renewables.
Williams President & CEO Alan Armstrong sat down with several members of the media, including Bloomberg's Alix Steel and CNBC's Brian Sullivan, to say how encouraged he is by recent sentiment from elected leaders and regulators at the federal level following passage of the Inflation Reduction Act which would help fund energy transition infrastructure.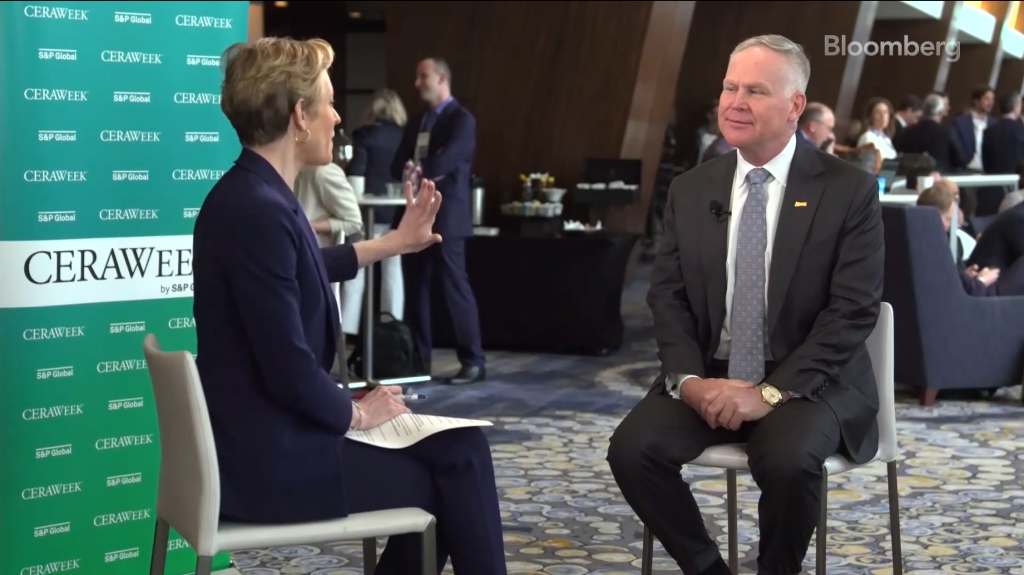 "Both sides of the aisle are recognizing that permitting reform is holding us back on infrastructure, on electric transmission to be able to connect in new renewables, for hydrogen and hydrogen pipelines," said Armstrong. "Everybody is recognizing that our permitting issues in the U.S. are holding us back, whether you are talking about utilizing natural gas to reduce emissions around the world or adding new renewables."
Williams handles about one third of the nation's natural gas to meet increasing demands brought on by electrification and renewables, as well as displacing the ongoing use of coal for electricity generation both in the United States and overseas. But an overly complex permitting process, including overlapping jurisdictions between state and federal entities, has hampered the many benefits of unlocking vast U.S. natural gas resources.
"The Marcellus and the Utica, if they were its own nation, that region would be the third largest gas producer in the world behind the U.S. and Russia," said Armstrong. "It's an enormous gas resource, and it's the lowest cost in the U.S. But it's now had three major pipelines stopped."
Williams leaders spoke out on the need for more regulatory certainty and transparency around permitting for large infrastructure projects, especially those that increase reliability, affordability and support emissions reductions. Natural gas is credited with reducing CO2 emissions by 60 percent since 2005 as coal plants have been converted to run on natural gas. Switching the remaining 230 operating coal plants in the U.S. would cut emissions by another 34 percent.
Williams Executive Vice President of Corporate Strategic Development Chad Zamarin spoke about the company's carbon capture project in the Haynesville as well as its wellhead-to-water strategy to export LNG to displace coal use overseas. In the Agora forums, Brian Hlavinka from the New Energy Ventures group focused on the commercialization of renewable natural gas, investments in low-carbon technology and other innovations at the forefront of the energy industry.

Beyond the speaking sessions, CERAWeek selected several Williams employees for the Future Energy Leaders and Women in Energy learning and networking groups.