According to the U.S. Energy Information Administration, Pennsylvania's natural gas production reached a new high of 15 Bcfd in October 2017, an increase of 25% from year-ago levels and an increase of 80% from January 2013.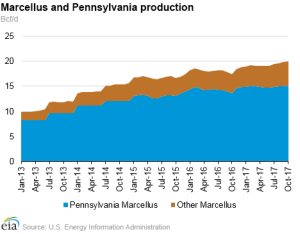 Currently Pennsylvania accounts for 19% of total U.S. natural gas production. This production is largely from Appalachia's Marcellus shale formation, 76% of which currently comes from Pennsylvania. The Marcellus formation is primarily located in Pennsylvania, West Virginia, and New York.
Pennsylvania is seeing an increase in permitting and drilling activity as new pipelines come online capable of moving natural gas to market centers outside of the region.
One major takeaway project currently under construction is Williams' Atlantic Sunrise project – an expansion of the existing Transco natural gas pipeline to connect Marcellus gas supplies with markets in the Mid-Atlantic and Southeastern U.S.
The nearly $3 billion project, which is designed to increase natural gas deliveries by 1.7 billion cubic feet per day, is scheduled to be placed into full service in mid-2018.