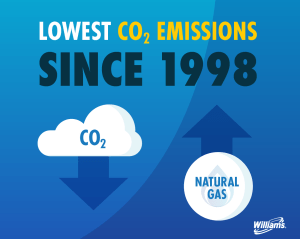 According to Carnegie Mellon University's Power Sector Carbon Index (PSCI)— a quarterly report that tracks carbon dioxide (CO2) emissions and intensity from the U.S. power sector — U.S. electricity generation CO2 emissions have fallen to their lowest levels since 1988. Natural gas' share of the total electricity generation mix has increased 67 percent since 2005. The increased utilization of cleaner burning natural gas helped 2017 power plant emissions tumble 27 percent below 2005 levels.
Last year Carnegie Mellon University specifically called out the role natural gas has played in curbing emissions, saying:
"The U.S. power sector has been getting cleaner and more efficient. CO2 emissions intensity from U.S. electricity generation decreased by 24% between 2005 and 2016 (from 1,324 lb CO2 per MWh to 1,005 lb CO2 per MWh – or 600 to 456 g CO2 per kWh). About 53% of this decrease is due to the shift in the mix of electricity generation from coal to natural gas."
In 2017 natural gas enjoyed its second consecutive year as the top fuel source for electricity generation. According to the U.S. Energy Information Administration, natural gas' net electricity generation share has jumped from 19 percent in 2005 to 32 percent in 2017.
The U.S. EIA also recently reported that significant declines in U.S. CO2 reductions achieved since 2005 can be credited to increased natural gas use for electricity generation.
"From 2005 to 2017, coal-related CO2 emissions declined by 835 million metric tons (39%), and petroleum-related CO2 emissions declined by 289 million metric tons (11%). The underlying energy consumption trends that resulted in these changes…have helped to lower the U.S. emissions level since 2005 because natural gas is a less carbon-intensive fuel than either coal or petroleum."
Read more here about Carnegie Mellon University's PSCI report.