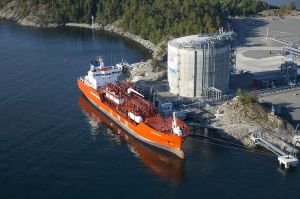 Forbes author Jude Clemente reported that over the final week of 2018, U.S. feedgas for LNG exports surpassed 5 billion cubic feet per day for the first time — an increase of over 60% for the same time in 2017.
He writes, "Bolstered by an easing of the trade war with China, the largest new gas user in the world (with nearly 15 regasification terminals scheduled to come on line 2020-2023), 2019 will be the "biggest year ever" for U.S. LNG."
According to the Forbes article, in 2019 the number of U.S. LNG export facilities will double from three to six, while over the next seven years, U.S. LNG gas export capacity could reach a whopping 20-25 Bcf/d, representing about one-quarter of U.S. gas output.
"Thanks to fracking and the shale gas that it yields, U.S. CO2 emissions are dropping faster than any other nation. For example, the mighty Marcellus shale gas play in Pennsylvania – now responsible for ~30% of all U.S. gas output – has cut the state's CO2 emissions by a whopping 30% in a decade."
Click here to read the full article.
Since 2017, Williams has added more than two billion cubic feet per day of capacity to directly serve global LNG export facilities, including projects like Gulf Connector, which was placed into service in January 2019.