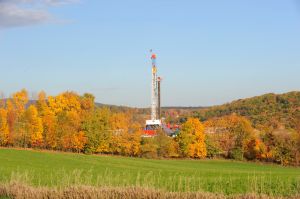 According to a 
report 
released by the Energy Information Administration, Pennsylvania had 62.7 trillion cubic feet of recoverable natural gas in 2016. The only state with more natural gas was Texas, which had at least 88.3 trillion cubic feet.
Pennsylvania had the largest net increase in natural gas proved reserves of all states in 2016, adding 6.1 Tcf of natural gas proved reserves in the Marcellus Shale play in the Appalachian Basin. The share of natural gas proved reserves from shale compared with total natural gas increased from 54 percent in 2015 to 62 percent in 2016.
Pennsylvania's natural gas production reached new record high levels in 2017, magnifying the need for new energy infrastructure to connect producing areas with consuming markets. 
Williams' Atlantic Sunrise
 expansion is one major project currently under construction to help ease pipeline capacity constraints that currently exist in the state.