Food and family are hallmarks of Thanksgiving meal memories. These employees share recipes that are generational hits, some nontraditional, and often are made using natural gas appliances.
By Nelly White, Event Planner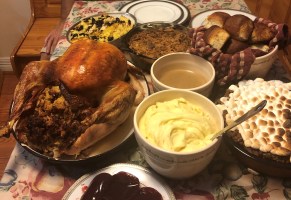 One recipe that is meaningful to me is my Mom's Thanksgiving stuffing recipe. Growing up, you could always find me in the kitchen when Mom was cooking. Mom always stayed home to care for our family, she was a homemaker. I recall she always had me set the table right before Dad was expected home from work, so that we could all sit together for dinner.
I don't know if she enjoyed cooking or not, but she is a really good cook and instilled in me the love of cooking. After I married, I called her the day before my first Thanksgiving as a wife to write down her recipe. I've tried a great variety of dressing recipes, Mom called hers stuffing (I guess because she stuffed in in the turkey to bake), but I always go back to Mom's. It is now, and has been for a long time, a family tradition!
---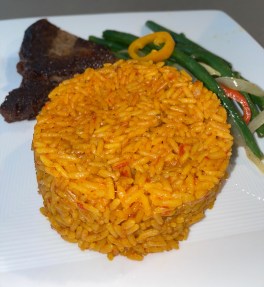 By Ebere Osemele Bolton, Sr. Commercial Services Rep.
If you've ever been to a Nigerian event or gathering, one of the dishes you are sure to find is jollof rice. Jollof rice is a staple in my house for Thanksgiving and is always made along with the other dishes typically served for the holiday (turkey, stuffing and all the other sides). Growing up, I personally learned to cook jollof rice on the stove but perfected my recipe in recent years by making it in the oven. So, if you're looking to introduce a spicy new dish this Thanksgiving, try out my recipe for Nigerian Oven Baked Jollof rice. Daalu. (Thank you.)
---
By Kristy Stoll, Land Representative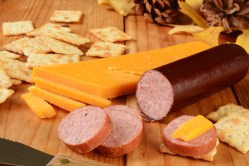 My earliest memories are hunting with my father and my late grandfather and cutting up meat at our family ranch. Starting when I was so small, I needed a chair to stand on, I had a job of helping wrap, or writing on packages and my son got his own job around the same age. Since our family settled in southwest Wyoming while it was still a territory and homesteaded on the "Stoll" ranch in 1866, there have been hard times and hard winters. While there often wasn't enough money, there was always enough food to sustain the family and anyone that came to the door.
To six generations of my family, meat hanging in the meat house has meant our family is good for another winter, and able to welcome anyone who comes to our table. To me it represents my childhood, my family and the long Stoll tradition of sharing what we have with our friends and neighbors.
---
By Sandy Manning, IT Manager, Applications Sr.
Tired of turkey and need a comforting meal in a short amount of time? Whip up these loaded mini meatloaf patties with beef, bacon, cheese and BBQ sauce. I love the idea of having a meatloaf as an individual patty. Cooking on a grill does seem to cook a little faster, depending on your setting. I struggled some with holding the patty together on the grill (adding more breadcrumbs would help with this), but it also provides for a little different flavor. I also love to cook this in the oven, or they can be cooked in the air fryer. You are sure to receive compliments with this delicious recipe and it's easy to prepare and cook, which is an extra bonus!
---
Pumpkin Chocolate Chip Cookies
By Kasey St. John, Sr. Communications Specialist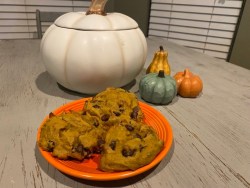 This recipe is one of my favorites because it signals that fall is here and holidays are on the way. I love the pumpkin spice smell when these cookies are baking. It has become nostalgic and joyful that I can share baking these cookies with my son as he grows up.